WSJ: Wisconsin's GOP legislature lays out their priorities for mining, education, taxes, and jobs
Paving the way for a new mine, lowering income taxes and finding ways to train more workers for available jobs are among the priorities cited by top Republicans, who will control the Legislature.
The two-year session begins Monday and will run through May 2014. Republicans have a 59-39 majority in the Assembly, with one vacancy in a heavily GOP district, and an 18-15 majority in the Senate. Gov. Scott Walker is also a Republican.
Senate Majority Leader Scott Fitzgerald, R-Juneau, said much of the Legislature's work will revolve around the governor's proposed budget, expected to be submitted in mid-February.
"The budget controls the landscape for the first six months," Fitzgerald said.
Wisconsin Taxpayers Alliance executive director Todd Berry agreed, saying, "The first question is really what the governor's budget will contain; that will be the jumping off point for work during the next session."
But lawmakers will have ample opportunity to go beyond the budget with their own agenda items. Assembly Speaker Robin Vos, R-Rochester, said his overarching goal is to "create the best environment for the private sector to generate more jobs."
MINING
Streamlining the permitting process for mining in Wisconsin will be perhaps the top non-budget topic in the upcoming session, and Assembly Republicans said a bill to do just that will be the first introduced. The only question is, how far will the changes go?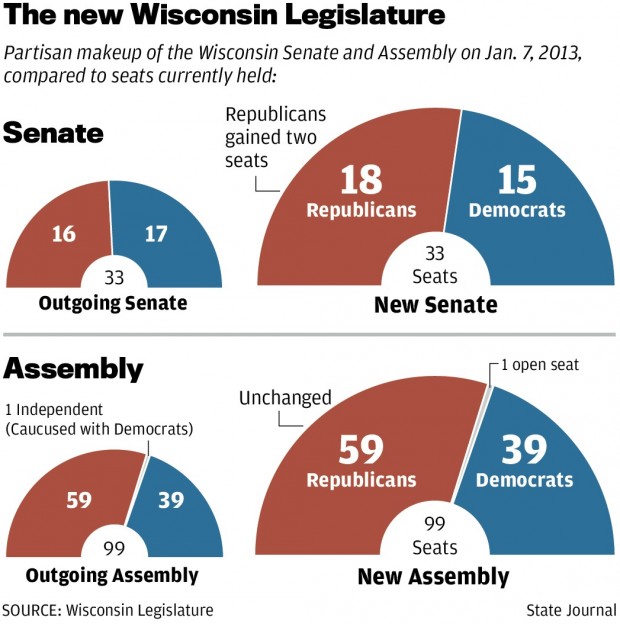 GOP leaders won't say. A separate mining bill died last session by one vote after Sen. Dale Schultz, R-Richland Center, bucked his party and turned down the GOP-backed proposal. He said it provided too little environmental protection and public input in the permitting process.
The push to change Wisconsin's mining laws was spurred by a proposal by Gogebic Taconite to put a $2 billion iron mine near Mellon that promised to provide 700 mining jobs and 2,100 support positions and hundreds of millions a year in economic impact.
In recent months, Sen. Tim Cullen, D-Janesville, chaired a special committee that came up with proposed parameters for a new bill, including a two-year deadline for permit review, rather than the 360-day deadline in last session's bill. The proposal from Cullen's committee also would allow the state Department of Natural Resources to pause the process for up to six months, maintain groundwater protections, require a master public hearing once DNR approves the permit and give payments to local communities based on how much iron is extracted.
Schultz predicted that the proposal — crafted during the few months in 2012 that Democrats ran the Senate — may sway some moderate Republican senators. But top Republicans labeled the committee hearings as a political stunt.
Fitzgerald called current mining laws "outdated and onerous" and said he expects legislation to be "bipartisan in the end."
TAX POLICY
Republicans also vow to reduce state income taxes, which Vos said would boost the economy.
Vos has said families earning between $20,000 and $200,000 a year deserve a break, although he did not elaborate.
"We are looking to reform our complex income tax code and provide income tax relief to every taxpayer, with a special focus on relief for middle-class families," Vos said in an email interview.
Wisconsin has the 12th highest income tax burden in the country and ninth highest in property taxes, according to the taxpayers alliance, while the nonprofit Wisconsin Budget Project notes that the state's income tax rate of 6.5 percent is the lowest it's been in 50 years.
Berry said state taxes weigh most heavily on the middle- and upper-middle classes. In the upcoming session "there will probably be less focus on the top and bottom ends of the income spectrum," Berry said.
Fitzgerald declined to say whether or how much income taxes should be cut. Fitzgerald said a "big piece" of the revenue picture — how much the state will receive in federal Medicaid funding — is not yet known.
ELECTIONS AND VOTING
Republicans likely will push new voter ID legislation and consider abolishing the popular same-day voter registration — but not necessarily as their first order of business. Moreover, Walker has vowed to veto a bill eliminating same-day registration if it costs $5.2 million as the state election agency says it would.
In 2011, the GOP-run Legislature passed a controversial measure requiring photo identification to vote. The requirement has been tied up in the courts for months after two judges found the new law disenfranchises some voters.
Vos told the WisconsinEye network he still wants to implement voter ID, which Republicans have repeatedly said is necessary to cut down on voter fraud. Only a handful of such cases have ever been detected or prosecuted in Wisconsin.
Fitzgerald said the Legislature may need to wait until the court challenges conclude to determine how to reinstate the requirement.
"It's pretty hard for the Legislature to react, absent a ruling," Fitzgerald said.
Vos also did not rule out abolishing same-day voter registration, used by tens of thousands of voters each election, although Walker recently pulled back on his support for such a measure.
Assembly Minority Leader Peter Barca, D-Kenosha, said of the proposal: "It just seems like that's constantly on the top of their (Republicans') minds about 'How can we further disincentivize people from being able to vote?'"
Fitzgerald has also suggested revamping the Government Accountability Board, which oversees elections, but Walker is against that idea.
EDUCATION AND SKILLS GAP
One of the few issues that has bipartisan support is closing the gap between the skills that potential employees have and the jobs that are available.
Vos said technical schools should focus on training people for jobs, not operating as "mini-four-year colleges." He also hinted that funding could be tied to that goal, saying he opposes "dumping money in the same system."
"When it comes to high-demand jobs, we are exploring ways to address the skills gap with the focus on education and development of better partnerships with the private sector," Vos said in the email interview.
Sen. Sheila Harsdorf, R-River Falls, chairwoman of the Senate Committee on Universities and Technical Colleges, said one option is "performance-based funding" for the state's universities and technical schools, with the ultimate measurement being whether graduates are prepared for employment.
But Harsdorf said the state must avoid "unintended consequences" that can result from setting the wrong standards. For example, she said tying funding too heavily to graduation rates could prompt schools to become overly selective, meaning some qualified students could be barred from admission.
Walker, too, has said he is interested in tying higher education funding to performance. That idea is also under consideration for the state's elementary and secondary schools possibly using the new report card system.
Vos and Walker want to keep property taxes in check, which would mean keeping a tight lid on the state-imposed limit on school district revenues. They also support linking any additional K-12 education aid to report card results and expanding private-school vouchers, though details on both counts have yet to be determined.
Sen. Luther Olsen, R-Ripon, chairman of the Senate education committee, said the report cards don't include enough data yet to tie funding to outcomes. He said the first step will be to ensure all schools, including private voucher schools, are part of the accountability system.
Olsen also said he supports increasing school spending by $200 per pupil, or about $300 million over the biennium.
Walker is considering State Superintendent Tony Evers' $7 million proposal to require the ACT college preparatory exam and related tests for high school students, spokesman Cullen Werwie said.
MISCELLANY
Vos also said he will push for a "a top-down review of all rules and regulations," which he said hasn't been done in decades.
While the Legislature passes laws, it's up to the executive branch and its bureaucrats to write the rules on exactly how such laws will be implemented.
Last session, the Legislature passed a law giving the governor broad powers to block proposed rules or proscribe how they will be written. Under the new law, each state agency also must provide an analysis of a proposed rule's impact on businesses and the state economy.
Vos' proposal would evaluate rules already on the books.
Walker also has said he is open to the idea of changing Wisconsin from a winner-take-all system when it comes to awarding Electoral College votes for presidential candidates — a proposal Democrats say they would fiercely oppose. Only two states currently apportion votes based on how well presidential candidates do in each congressional district and in the statewide count. Last year, President Barack Obama, a Democrat, received all 10 of Wisconsin's electoral votes.
Fitzgerald spokesman Tom Evenson said such an idea "is not on our radar screen." Although Vos has sponsored such legislation in the past, his spokeswoman Kit Beyer said, "This is not a top priority in the Assembly."
Other lawmakers have discussed additional restrictions on abortion or reviving legislation to spur venture capital investment.